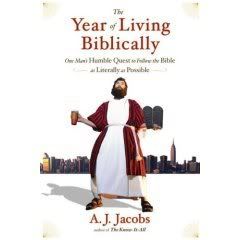 The Year of Living Biblically: One Man's Humble Quest to Follow the Bible as Literally As Possible.
A. J. Jacobs
Author Website:
ajjacobs.com
Review By: Carrie B.
When A. J. Jacobs beings to plan for his next book, he knows he's going to have to come with something big. His last book, The Know-It-All was a national best seller and was about Jacobs' quest through the Encyclopedia Britannica. How do you follow the encyclopedia? With the world's most controversial book – The Bible.
Jacobs, a secular, agnostic Jew (he proclaims himself to be Jewish the same way the Olive Garden is Italian), faces the challenge of The Bible head on. He decides to spend a year living the Bible and all of its rules as literally as he could. With a Bible that belonged to an ex-girlfriend, as much research material as he can gather, and a crack team of Biblical experts that range from religious scholars to retired pastors and active rabbis. In addition, he spends his year travelling from place to place, investigating religious phenomena at the source, going to a snake handling church, Jerusalem (where he meets with his ex-uncle, Guru Gil), and the Creation museum just outside of Cincinnati.
I confess, I had serious doubts about this book when I first picked it up. The Year of Living Biblically is my book club's book of the Month for February, and if it wasn't, I'm sure I would have given it a pass. Thank goodness, then, for book club. My expectations of a sarcastic and anti-religious book were blown away. Jacobs faces the many rules of the Bible head on. He grows his beard and his hair, tries to figure out how animal sacrifice works, checks into the pursuit of the perfect red heifer, tries to love his neighbor and gives up lust and lying. Some rules he succeeds at (he achieves some skill in blowing a horn on the first of each month) and some he fails at (lying is a weakness for him). But he looks at them all with a sincere and earnest interest that does him a great deal of credit. Faced with the challenging and sometimes contradictory interpretations of the Bible, he forges ahead, and tries to experience the Bible for himself as best he can.
Some of the most fun is watching him try to work out some of the more obscure rules (such as playing a ten-stringed harp every day, when he doesn't know how to play the harp) and discovering that he is not alone. For every rule, there is a group that follows it, and he learns to respect the devotion people show to the Bible from unexpected places.
This is a smart, funny (very, in places) and thoughtful book that looks at the challenges of living Biblically in modern times.